"Shell" is a required field.
"Drum color" is a required field.
"Hardware color" is a required field.
"Hoops" is a required field.
"Lugs" is a required field.
"Throw - Off" is a required field.
"Snare wire" is a required field.
"Drumhead" is a required field.
"Badge" is a required field.
You might think this is the name of an undercover superhero. And in a way, you might also be right. This little firecracker of a snare drum has a depth and sound big enough to carry you through any musical set piece, or back you up as a trusty sidekick at a dodgy venue in a dark alley… The dimensions are 10"x5,5", making it a bite-size helping, or side dish, at any gig. The shell is 2,5 millimetres thick, with 5 millimetres at the reinforcement rings. And the bearing edges are the same as our Diamond series – baseball bat edge on the batter side, and 45/45 on the snare side and snare beds.
Achim Färber
Berlin
Product: SupraNolic
The SupraNolic had a very fat, warm and punchy tone in the p.a. System. The sound engineer was very happy. In the studio, I tried a lot of different open tunings, and the drum never let me down. Sounding great in any tuning. Full and warm sound always. So, I'm happy to add another fantastic sounding instruments to my little collection of snare drums. I can only recommend this drum to every drummer, who is looking for a versatile, reliable drum with only the best parts on the market, plus a unique shell construction with an incredible deep sound!

www.achimfaerber.com
www.instagram.com/automatdrummer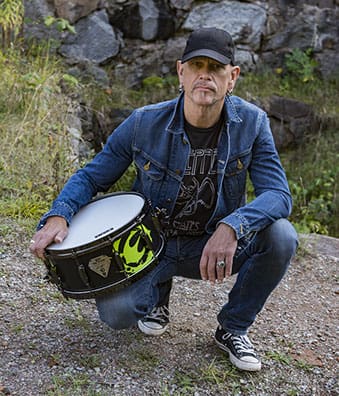 Ian Haugland
Band: EUROPE
Product: Diamond
I never played anything as amazing as the snare drum from 101 Drums ever before!

After more than 30 years as a professional drummer, i have never played anything that comes even close to the sound of the snaredrum from 101 Drums. My first impression of it when i played it live, was how well it blended into the rest of my Ludwig kit without standing out too much or taking over the sound picture. It is loud, crisp, clear, responsive, dynamic, warm and durable. It is crafted by the guys at 101 Drums with the greatest knowledge, respect and love for the instrument and it's simply beautiful!
Ian plays a custom build 14 x 6,5" 101 "Ian Haugland Signature Snare"

www.europetheband.com
Jamie Borger
Band: TREAT, Talisman, Secret Service, Last Autums´s Dream
Product: Diamond
I FINALLY FOUND WHAT I WAS LOOKING FOR!

I like my snare drums loud and ringy, and man, this snare is loud! It´s unique composite woodfibre shell gives the snare a punch and projection of a wood shell, yet the responce and resonance of a metal snare. I love the clarity of this great snare drum, down to every ghost note. No matter if I´m in the studio recording or playing live in concerts, this Naturell Diamond won´t leave my hands.
Jamie plays a custom build 14 x 6,5", 14 x 7

www.facebook.com/treatofficial

Lea Larsson
Band: Metalite
Product: 14 x 5,5" Smokey Diamond snare
Lea Larsson has been in the swedish rock and metal scene since 1998 and has since played with various different artists and bands. Today she is the drummer in Metalite and also does some freelancing with a wide range of artists.   "-My first encounter with a 101 snare drum was at a gig with Metalite at Malmöfestivalen 2019 and I absolutely loved it. It has a warm and very dynamic sound and the feel is very responsive. The snare mechanism is smooth as silk and the drum even smells good. But the best part is how dynamic it is and it responds to the smallest touch. Swedish engineering at its best".
www.metalite.se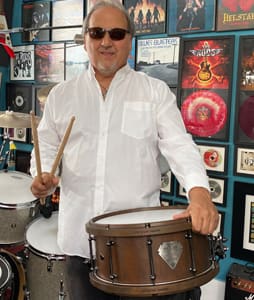 Carl Canedy
Band: Canedy, The Rods
Product: 14 x 6,5" Carl Canedy Signature with Diamond Hoops
I love the look, the sound and feel! I couldn't ask more of a snare drum, in fact I feel that some of my favorite drums have been letting me down. When I'm not touring with The Rods or Canedy I'm recording music of all different styles. This drum sounds amazing at any tuning or style of music. I own an extensive collection of new and vintage wood and metal snare drums. My 101 Signature drum is the crowning jewel to my collection. What I found with my 101 snare drum is that I have the best of both worlds in one drum. It has the attack of a metal snare with the roundness and warmth of a wooden snare. It's responsive in any tuning and it cuts through like no other. The attention to detail and quality is as fine as any "boutique" drum I've seen. I've been recording with this drum it kicks ass on all styles of music. After two minutes of playing a 101 snare drum, I knew I had to have my own. I can't say enough how proud I am that 101 Drums is offering a Carl Canedy Signature Model.