ARTISTS
Here you can read about artists using 101Drums,
and take part of their experiences.
Jamie Borger

Band: TREAT, Talisman, Secret Service, Last Autums´s Dream
I FINALLY FOUND WHAT I WAS LOOKING FOR! This 14x6 ½ Naturell Diamond snare drum has it all!



Carl Canedy
Band: The RODS, Canedy
I've been recording with this drum, it kicks ass on all styles of music. After two minutes of playing a 101 snare drum, I knew I had to have my own.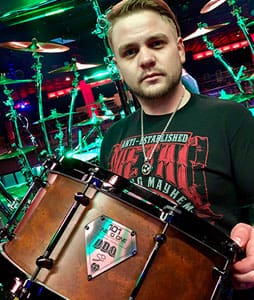 Sven Dirkschneider
Band: U.D.O.
True love right from the start! This 14"x6,5" Smokey Diamond snare is just incredible and gives me everything i need!


Johan Franzon
Band: Scorpions, Tomas Ledin and many more...
What an incredible snaredrum this is! Lots of depth and punch, great dynamics and the crack of a metall shell. I've played it every day since I got it in many different situations.

Jesper Haugaard
Band: Witch Cross, WST, Crime Club
I am very very Happy and proud to part of the 101 family. This is the best snaredrum I have ever played, it must be every drummers wet dream.
Fredrik Jansson
Band: Angel Witch & Lugnet
This has to be one of the best snaredrums i've ever played!!! It's solid with a superb warm sound AND it stays in tune no matter how hard i hit it.
Efraim Larsson
Band: Gathering of Kings, Saffire, Streamline, ex-Diamond Dawn.
A couple of years back I got to try the 101 Black Diamond for a live show and it just instantly blew my mind off.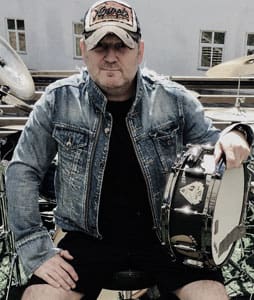 Jonathan Sketcher
Band: Independent session drummer
Having played the same snare drum for the last 15 years it would take something pretty special for me to want to change,however the 101 Black Diamond snare drum did just that!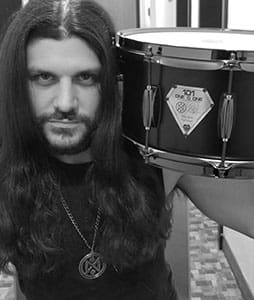 Dusty Squires
Band: Night Demon
If there's one thing I need on tour or in the studio, it's a dependable snare. 101 Drums offers that and so much more. My 14x6.5 Black Diamond has great attack that is focused and precise.

Julia Thulin
I am very grateful and happy that 101-Drums wants to be a part of my goal to become one of Sweden's greatest drummers!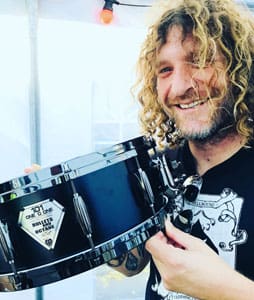 Jonny Udell
Band: Bullets & Octane, Warner Drive
The first time I tried the 101 Black Diamond snare drum I was in all! The wood-fiber shell mixed with the die cast hoops create a tight crisp sound with such great response! Goodness I was in love right away!!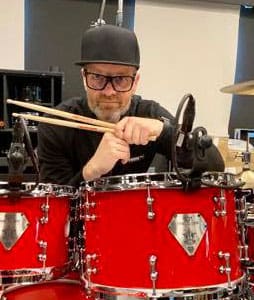 Micke Syd
Band: Gyllene Tider
We had the honor that Micke Syd wanted to play the first ever build 101 drumkit on the Gyllene Tider farewell tour GT40.

Josh Watts
Band: Operation Mindcrime
An amazing snare. For all styles of music. Has the perfect snap that I need for playing the Operation Mindcrime album and a great tone. Beautiful Finnish. An all round great piece of craftsmanship by 101 Drums. Highly recommended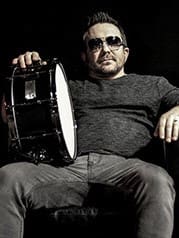 Ian Brunnberg
Band: Violet Janine
Having tried basically every snare available on the market, i just gotta say, the 101 Drum beats them all! The depth and tone is way ahead of the competition and it always stays in tune!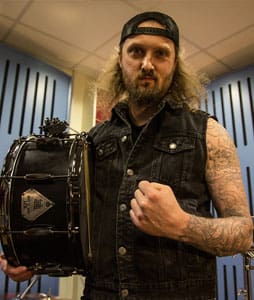 Matt Dobson
Band: Toledo Steel
Not only does my signature Black Diamond snare drum have an overall killer sound to it with great response and dynamics, but it also really packs one hell of a punch"
Cederick Forsberg
Band: Crystal Viper - Blazon Stone
Since joining Crystal Viper I realized I needed to upgrade my inventory, and 101 Drums catched my attention.
Herman Furin
Band: Work of Art
My 101 snare is all I ever wanted! The crack, the dynamics, and the fantastic sound is actually everything ANYONE could ever want!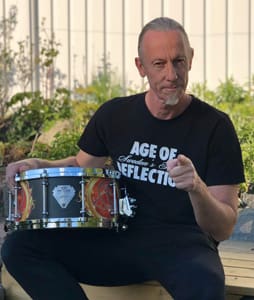 Urban Greijer
Band: Age Of reflection
A snare drum from 101Drums gives you the combination of the warmness of a wood snare and the attack of a metal snare.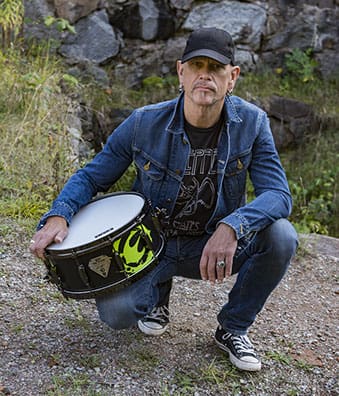 Ian Haugland
Band: EUROPE
I never played anything as amazing as the snare drum from 101 Drums ever before!

Pehr Hagerius
Band: Session Drummer
The feeling you get when the sound engineer smiles when you do the sound check of you snare. I love my 101 snare.
Roger Landin
Band: Hellsmoke
I used one of the 101-snares in the studio and the thing beside the awesome sound was, how little time I had to spend on retuning it. All in all, a freaking beast of a snare with great hardware!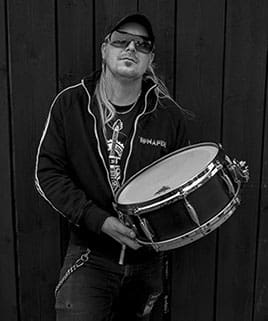 Niklas Skövde Matsson
Band: Bonafide
I am having the honor to play a snare from 101 Drums. The snare I got, suited me absolutely fine and the sound fits like "Hand in a glove".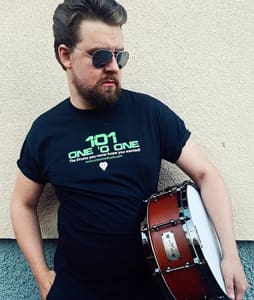 Erik B Larsson
Band: Session Drummer
I've never experienced a snare with the combined warmth from a wood drum, with the attack and sensitivity from a metal snare drum. This is why I choose 101Drums
Lea Larsson
Band: Metalite
Swedish engineering at its best. My first encounter with a 101 snare drum was at a gig with Metalite at Malmöfestivalen 2019 and I absolutely loved it.

Per Soläng
Band: CORRODED
I have NEVER EVER heard anything like this one, a 14x6,5 snaredrum by 101Drums. First time I tried it was during our Sweden Rock Festival gig 2017, and I was totally blown away.
Kev Whitehead
Band: Dare, John Lee´s Barclay James Harvest, Between the vines.
I used the 14"x5.5" snare on my gig with Dare at Melodic Rock Festival and it was amazing.